What is Mentally Fit?
THERAPIST TOOLBOX IS A
COMMUNITY BY MENTALLY FIT
---
Mentally Fit is backed by leading mental health experts and advocates, including: Dr. Mark Goulston, Dr. Sherrie Campbell, Dr. Kate Balestrieri, Dr. Carla Manly, Tony Coelho (fmr member US House of Representatives).
We are on a mission to make improving mental health a normal part of everyday life for people worldwide! We offer support, resources and community for everyday people, as well as mental health professionals.
To learn more, visit: https://joinmentallyfit.com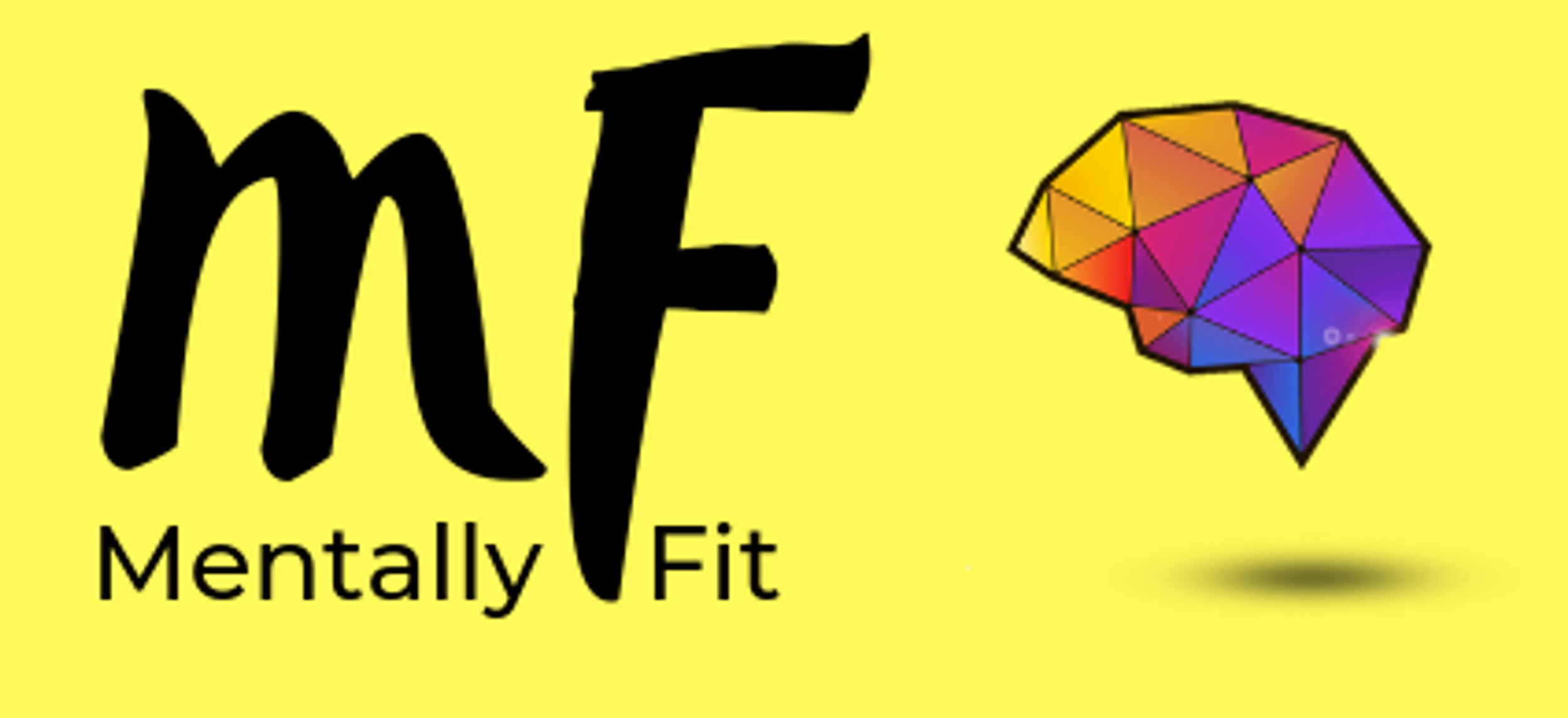 ADVISORY BOARD:
Dr. Mark Goulston, M.D.
Dr. Mark Goulston served as a UCLA professor of Psychiatry for over 25 years and a former FBI and police hostage negotiation trainer. Today, he is a world-renowned speaker, author, and highly-sought-after expert on suicide prevention.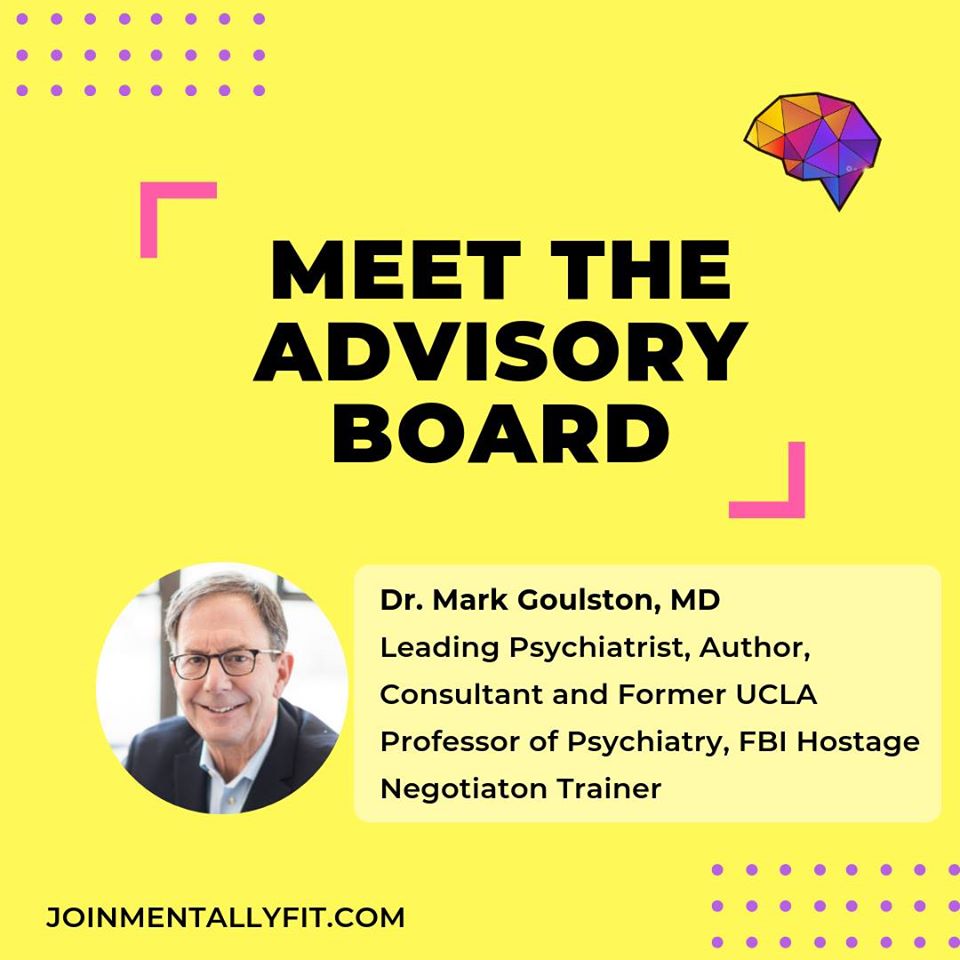 His book, Just Listen, ranked #1 in six Amazon/Kindle categories, has been translated into 14 languages, reached #1 in Munich and Shanghai, and became the basis of a 2010 PBS special.
Dr. Kate Balestrieri
Dr. Kate Balestrieri is a Licensed Clinical and Forensic Psychologist in CA and IL, and Certified Sex Addiction Therapist – Supervisor.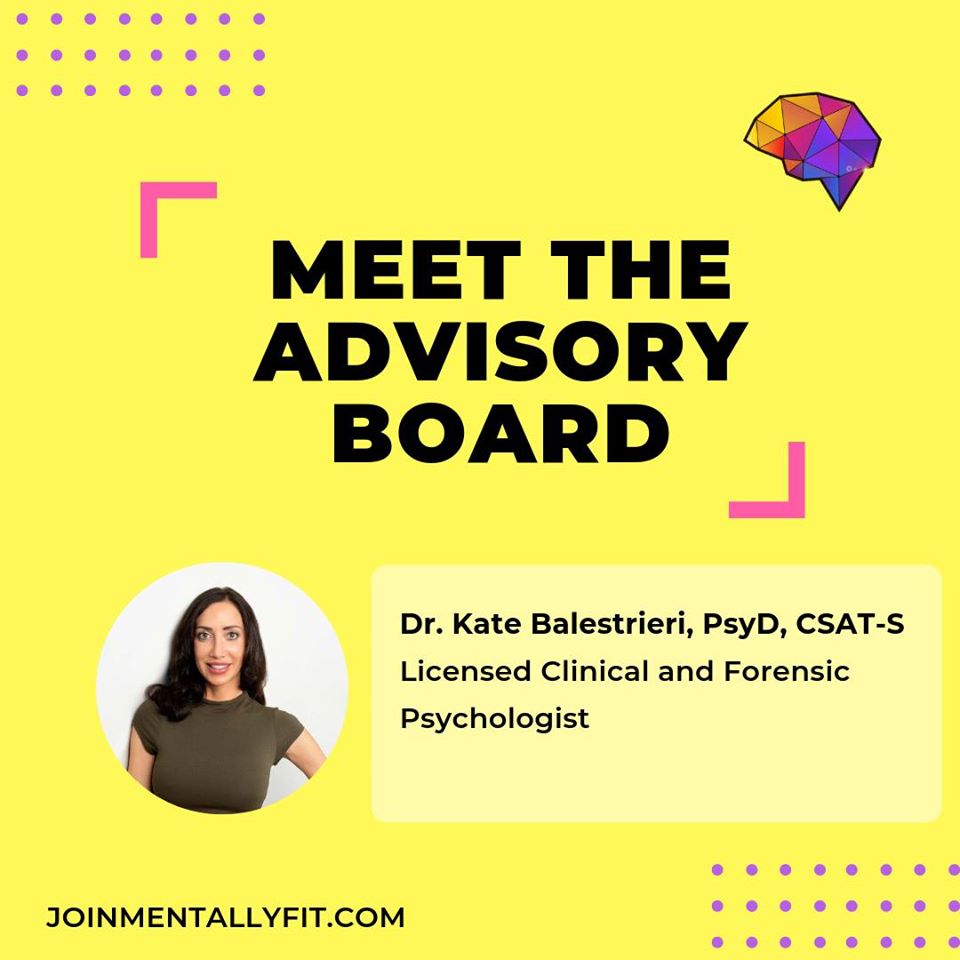 She earned her Doctorate of Clinical Psychology from the Illinois School of Professional Psychology, Chicago, with a concentration in Forensic Psychology. In over 12 years of clinical experience, she has conducted clinical and forensic evaluations, served as an expert witness, and provided treatment in clinical, forensic, and correctional settings.
In private practice, Dr. Balestrieri works with adolescents, adults, and couples to address a variety of mental health concerns. In addition to individual and couples' therapy, she conducts comprehensive cognitive and personality assessments, differential diagnosis evaluations, and screenings for the presence of alcohol/drug addiction or sex/love addiction, or compulsive relationship behavior.
Dr. Sherrie Campbell
Dr. Sherrie Campbell, PhD is a clinical psychologist with over 25 years of clinical training and experience. She has a full private practice where she works with individuals 12 and up, and her treatment covers the span of nearly all mental health issues.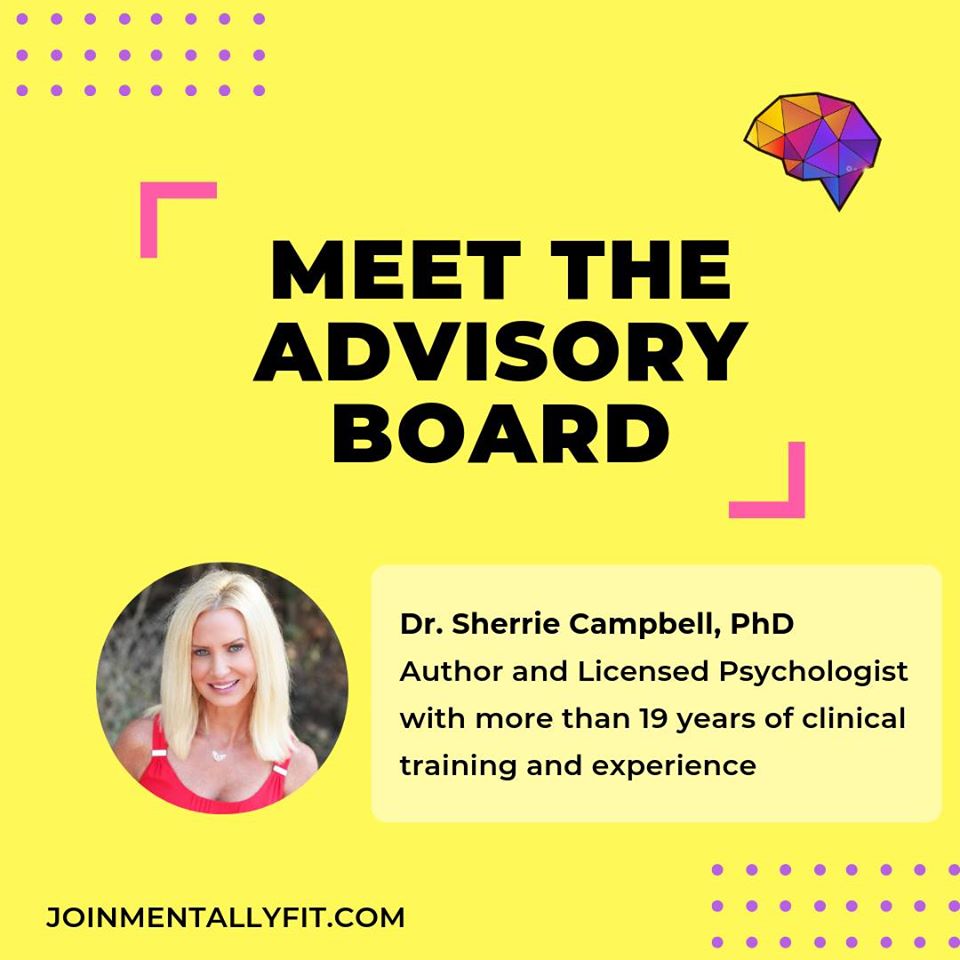 She is one of the top writers for Entrepreneur Online, and hosts her own Radio Show on the BBM Global Network and TuneIn radio. She has been seen on Good Morning America and Fox 11 News LA, and Fox News San Francisco.
She has over 60,000 fans on Facebook where she blogs each day, does videos each week and shares all her published work.
Dr. Carla Manly
Dr. Carla Marie Manly is a clinical psychologist and wellness expert who makes her home in Sonoma County, California.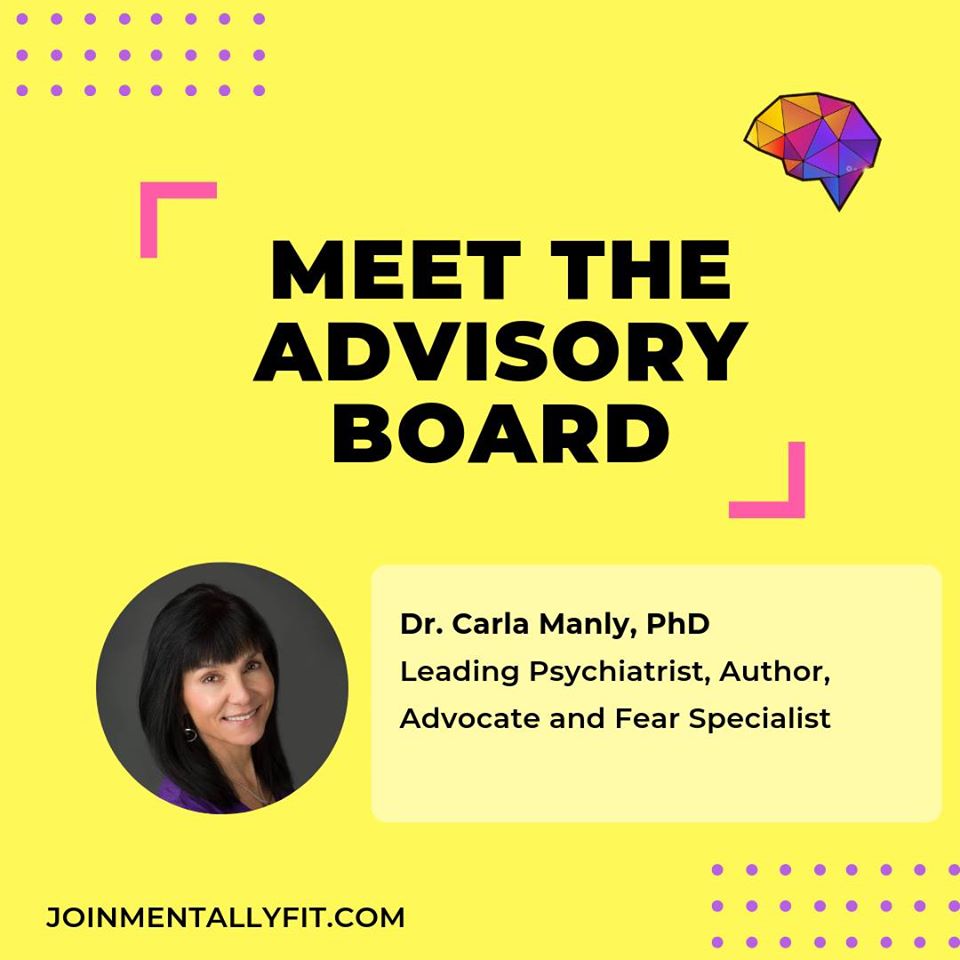 With a holistic, body-mind-spirit approach, Dr. Manly specializes in the treatment of anxiety, depression, trauma, and relationship issues. Blending traditional psychotherapy with alternative mindfulness practices, such as yoga and meditation, Dr. Manly knows the importance of creating healthy balance, awareness, and positivity in life.
Her first book, Joy From Fear, released on April 1, 2019 offers page after page of real-life examples, insights, easy-to-use tools, and life-changing exercises.
Coining the term transformational fear, Dr. Manly illuminates the importance of embracing fear's messages for a transformed life filled with freedom and lasting happiness.
Tony Coelho
Tony Coelho is an American politician & disability rights advocate from California who served in the United States House of Representatives.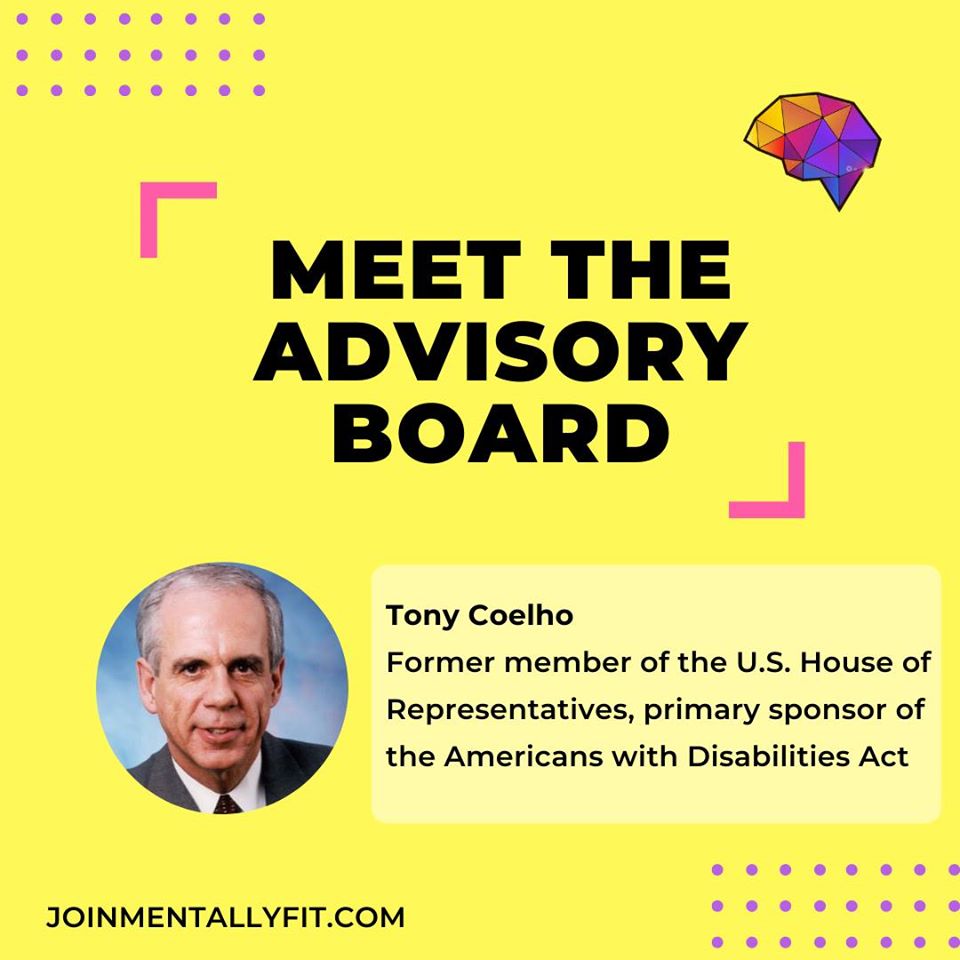 Tony was the primary sponsor of the Americans with Disabilities Act, which prohibits discrimination against individuals with disabilities in all areas of public life, including jobs, schools, transportation, and all public and private places that are open to the general public.
Tony is also a former chairman and current member of the board of directors of the Epilepsy Foundation.
Tony also Founded the Coelho Center for Disability Law Policy and Innovation at Loyola Marymount University in Los Angeles.
QUESTIONS ABOUT MENTALLY FIT OR OUR TEAM?
Comment below and let us know! You can also email us at [email protected]